Flick Electric Co.
Information
Plans
Reviews
News
Flick Electric Co. began life in Wellington in 2014 with wholesale pricing plans and fixed-generation pricing plans that come without any fixed-term contracts or break fees.
As a Flick customer, choose from weekly, fortnightly, or monthly billing, and keep power bills predictable with Flick's bill smoother tool, Volt, which allows customers to build up credit for when they need it most.
Plus, customers have access to the Flick app to monitor prices, manage usage, and keep an eye on the carbon emissions generated from household's electricity use. For grid-tied solar customers, Flick also offers a sell-back power scheme, Home Harvest.
In 2018 Flick partnered with Z Energy to help bring energy choices to as many Kiwis as possible. They're NZ's only Consumer Trusted power company and a winner of Consumer NZ's People's Choice award (2017, 2018 & 2020) and Canstar Blue's Most Satisfied Customers Award (2020). Plus, Flick is also Rainbow Tick certified, CarboNZero certified, and pays the Living Wage.
Flick is available almost everywhere in New Zealand as long as you have a smart meter.
Compare Flick energy deals and Flick Power plans on Power Compare
** NOTE: The above information has been provided by « Flick Electric Co.» or reproduced from their website **
*** last updated at 2022-02-21 09:44:28 ***
COMPARE PLANS NOW
| | |
| --- | --- |
| Overall Satisfaction | 8.0 |
| Value for Money | 9.0 |
| Customer Service | 7.0 |
Average from 3 reviews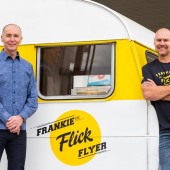 27/08/2018
Z Energy invests 70% in Flick Electric
Exciting news in the energy sector today as Z Energy announce that they are investing $46 million in Flick Electric. A move that recognises the important role that electricity will play in the future of transportation in New Zealand.