Flick Electric Co.
Information
Plans
Reviews
News
Locally owned, and putting kiwis first
We're not owned by one of the big gentailers, but by a group of locals who think consumers should be getting a fairer deal.
We believe power prices should be honest and transparent, which is why every bill you receive from us will show you exactly who has charged you what to get the power to your place.
And using our custom technologies we'll work with you in unprecedented ways to help you control your power purchase.
Compare Flick energy deals and Flick Power plans on Power Compare
** NOTE: The above information has been provided by « Flick Electric Co.» or reproduced from their website **
*** last updated at 2020-11-18 17:32:39 ***
VISIT THEIR WEBSITE
| | |
| --- | --- |
| Overall Satisfaction | 8.5 |
| Value for Money | 10.0 |
| Customer Service | 7.0 |
Average from 2 reviews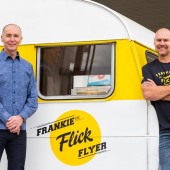 27/08/2018
Z Energy invests 70% in Flick Electric
Exciting news in the energy sector today as Z Energy announce that they are investing $46 million in Flick Electric. A move that recognises the important role that electricity will play in the future of transportation in New Zealand.