Flick Electric Co.
Information
Plans
Reviews
News
Flick Electric Co. was established in 2014 to disrupt Aotearoa's outdated, self-serving industry. We were the first energy retailer to offer Kiwis a way to purchase cheaper power directly off the wholesale electricity market, and we've remained true to our foundations of fairness, honesty and transparency ever since.
With Flick you'll get award-winning, friendly service from our Wellington-based team that are winners of 2021 Consumer NZ Energy Retailer of the Year, Consumer NZ's People's Choice award in 2017, 2018, 2020 & 2021, Canstar Blue's Most Satisfied Customers Award | Electricity Providers in 2020 and 2022 and Power Compare's People's Choice Retailer of the Year 2021
Flick aims to offer the fairest power plans and prices to Kiwis nationwide, and put the power in your hands. With two plans to choose from, there's something to suit every lifestyle:
Flick's Flat plan is perfect if you don't want to think about what times or days you're using power. You'll tend to use most of your power during peak times (7am-9am and 5pm-9pm) or you'd find it hard to shift your usage to take advantage of off-peak pricing.
If you're keen to save money on your power bill without having to use less power, Flick's Off Peak plan is for you. You'll typically use lots of power in off-peak hours already, or it's a change you reckon you'd be able to make.
Flick is available almost everywhere in New Zealand as long as you have a smart meter.
Compare Flick Power plans on Power Compare
** NOTE: The above information has been provided by « Flick Electric Co.» or reproduced from their website **
*** last updated at 2023-08-15 15:49:35 ***
COMPARE PLANS NOW
| | |
| --- | --- |
| Overall Satisfaction | 8.0 |
| Value for Money | 9.0 |
| Customer Service | 7.0 |
Average from 3 reviews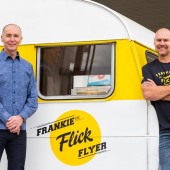 27/08/2018
Z Energy invests 70% in Flick Electric
Exciting news in the energy sector today as Z Energy announce that they are investing $46 million in Flick Electric. A move that recognises the important role that electricity will play in the future of transportation in New Zealand.